Designed for sanitary applications, the CLEAN line aims at meeting the increasing demand of laboratories and clean rooms.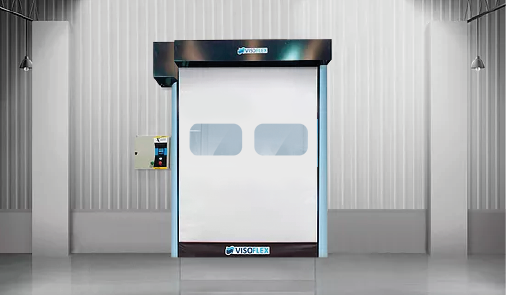 VFX ZIP Clean Fast Doors are available with various features and options:

Zipper-type guides
Ensuring sealing and zero maintenance
Double Photoelectric Sensor
Receiver emitter for greater safety in closing.

Gearmotor
With absolute encoder positioning control, providing full precision and control over the door leaf travel.

Communication HMI
Reducing setup time and making diagnostics easier.
Lower Seal 100%
With perfect seal on the floor.

Structure
Screwless aluminum cover with "click" fitting.
Check out
VFX ZIP Clean
in operation
STRUCTURE

PVC thickness: 1mm;
Available colors: Blue, white or gray;
Door leaf: No rigid profiles;
Application: Internal/External;
Wind resistance class: Class 1 EN 12424;
Working temperature: from 5C to 70C;
Roll cover: Not included, optional;
Engine cover: not included, optional;
Columns: Natural anodized aluminum, with "click" snap-on covers, without screws;
Column thickness: 2mm;

SAFETY

Safety photoelectric sensor on the base: Included;
Door leaf travel obstacle detection photoelectric sensor: Included;
Photocell protection degree: IP67;
Resuply system: Included, automatic (ZIPPER);
Display: Included, 700mm high;

AUTOMATION

Voltage: 220V, 380V or 440V/3ph/60Hz (ground+neutral);
Engine protection degree: IP55, high performance;
Motor-shaft coupling: Direct;
Engine control: Contactor or inverter (optional);
Opening speed: 1.0m/s;
Closing speed: 1.0m/s;
HMI: Internal LCD display;
Positioning system: Absolute Encoder;
Motor power: from 1.00hp to 2.00hp;
Control panel in high-resistance PSAI;